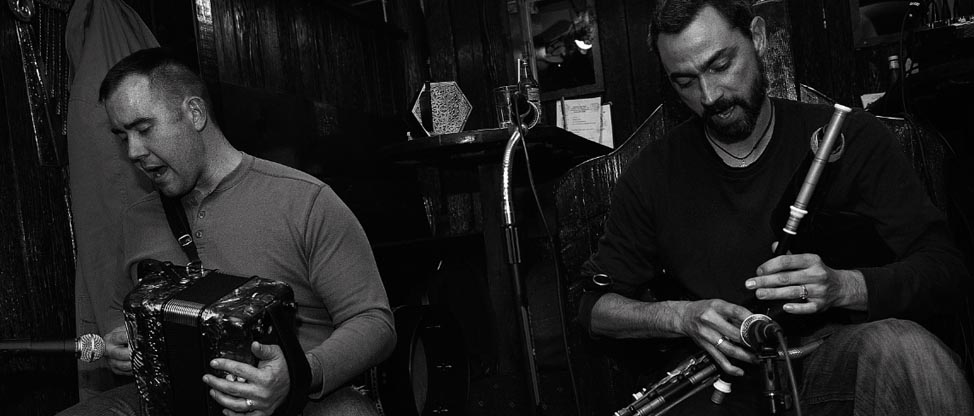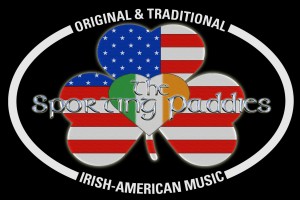 Tom Cassidy, uilleann pipes / flute / whistles / vocals
Mike Cassidy, button accordion / concertina / bodhrán
Craig Harbauer, fiddle / mandolin / tenor banjo
Martin Kearns, guitar / vocals
James West, guitar / vocals
James West has been a staple of the Norfolk / Virginia Beach Irish scene since 2002 when he began performing at Jack Quinn Irish Pub in Norfolk, VA. James is a regular solo performer at several local venues, including Murphy's of VA Beach, Jack Quinn Irish Pub, Mo & O'Malley's Irish Pub in Norfolk, and The Blarney Stone in Fredericksburg.  James' vocals communicate a warmth and profound understanding of the material that lend to the outstanding quality of his performance.
Tom & Mike Cassidy have been playing Irish traditional music together most of their lives.  Having both studied individually with some of the greatest musicians in the New York City Irish trad scene, their skillful and close manner of their dual playing bring to the band a unique and authentic Irish trad element not often heard these days.  The two brothers can be found playing out at any number of seisiúns in the NYC area.
In February 2005, Tom was visiting friends in Virginia Beach who recommended listening to James West who was performing some of the best Irish pub music in the VA Beach area.  Upon hearing James first hand, Tom was sufficiently impressed to introduce himself and offered to sit in on uilleann pipes next time he came down. Tom made several solo trips to VA Beach to sit in at James' shows, including studio time adding pipes and whistle tracks to James' CD , "All Craic'd Up."
In February 2006, James traveled up to perform with Tom in New York.  There, Mike joined the band on button accordion.  Three years of playing together, including the release of The Sporting Paddies' first CD, "What's the Craic?" in December of 2008, concretized the essential elements of what make The Sporting Paddies unique.
In January 2010, The Sporting Paddies, seeking to expand their instrumentals, welcomed their newest member, Craig Harbauer, a veteran of the NYC seisiún scene,
Starting in March 2010, James found himself in increasing demand at home in Virginia. In his stead, The Sporting Paddies have relied on the guitar and vocal stylings of Marty Kearns, a stalwart of the Long Island music scene.
Among the band's highlights are playing the NYPD Transit Bureau Emerald Society's St. Patrick's Day ball at Webster Hall in NYC, the FDNY Emerald Society's annual fundraising boat cruise, and The FDNY Pipe Band's Christmas and post St. Patrick's Day Parade parties. Additionally, several of the band's songs have been featured on Ceol na nGael on WFUV 90.7FM, Fordham University radio.